Veja, SP, Dec 1985

SPECIAL CHRISTMAS TREES
The pine tree traditions of William Hering


BACK
Hering on his tree farm: Christmas trees with a perfect shape
Of the many establishments where customers can buy a Christmas tree in São Paulo, one in particular stands out for the quality and quantity of its offerings: the small pine forest William Hering, 51, established at the end of each year on the other side of the Cidade Jardim bridge on the way out of town toward the Jockey Club. For the past 37 years, Hering, an attorney and economist who inherited his parents' German accent and business, has sold Christmas trees. He's become an authority on the issue, and long-time buyers of his dating back to his boyhood years in Jardim Europa have remained loyal customers, to this day coming back to purchase his famous trees in the company of their grandchildren. The secret of the business: Hering himself harvests his pine trees on his 145-hectare Castanheiras Farm, located 30 kilometers south of down town São Paulo.
To make the lives of his customers easier, Hering sends out a letter three months prior Christmas, providing them the chance to place orders and reserve their trees. In addition, customers can select the height of their Christmas tree up to a year in advance. This might seem frivolous. But with William Hering, customers know that a 2.5-meter tree was harvested at that specific height and that its perfect conical shape is no accident. Hering's 2.5-meter pine is no 3-meter specimen pruned to the desired dimesnions. And most importantly, regardless of the size of the pine tree, Hering guarantees a conical shape, bright and live colors, and dense foliage – precisely the tree we envision.
PROFESSIONAL WORK – Across the 800 square meters of the shop – a commercial space worth on the order of 1.6 billion cruzeiros in this part of the country – customers can find individually labeled trees with information on their height and price. Hering himself offers tips on how to care for the trees and is exacting in regard to their transport – they should be moved preferably, at night, to avoid sunlight. Detail: his employees are experts in fastening the trees perfectly to the outside of their cars, guaranteeing safety during transportation. Many people are surprised to learn that Hering sells his pine trees without roots and with the trunks set in concrete in a plastic container filled with water, ensuring their survival for months. "It's Columbus' egg," says Hering with satisfaction. "By using the containers, customers can easily control water levels and fill them up accordingly," he says.
To be sure, Hering's prices are far higher than those found on the market. They start at 50,000.00 cruzeiros and can reach more than 10 million cruzeiros. A 1.5-meter pine tree, for instance, runs 350,000.00 cruzeiros, compared to 150,000.00 cruzeiros at a local florist. But to customers it is all too plain that the flower shop trees aren't Herings, resembling, instead, wildgrowth specimens. "The prices are high," says Silvia Rita Gouvea, 26 years, a Psychology student and customer of Hering's pine trees for the past two years. But the cost doesn't dissuade her: last Wednesday, Silvia loaded a Hering Christmas tree on her car for the hefty price of 480,000.00 cruzeiros.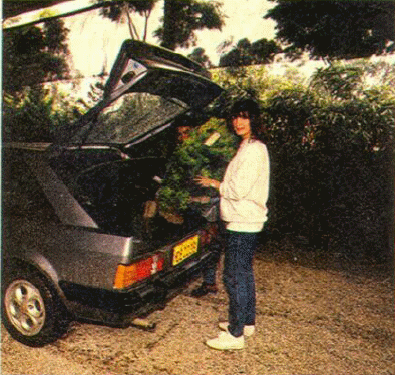 Silvia: "It's worth it in spite of the prices." Veja, SP, December 1985